My husband and I recently traveled to New Orleans for a weekend getaway. Both of us were born and raised in northeast Louisiana, and have been to New Orleans many times, but this was our first trip since Katrina. I had said that I really didn't want to go back, but I'm so glad we did.


My first impressions of the downtown area and French Quarter were positive ones: It is cleaner than it was before Katrina, and there aren't as many people. If you've ever been to New Orleans and stood in line to get into a restaurant on a hot and humid evening, you'll appreciate that.


We had heard that service in restaurants and availability of cabs might be an inconvenience, but we didn't have any problems at all.


Like any large city, New Orleans still has its vagrants and you have to use common sense about not wandering "too far off the beaten path," but police and security folks were highly visible everywhere we went.
I'd like to share with you some of the places we went and a few of the sights we saw. New Orleans is a photographer's treasure trove. Everywhere I looked there was "a picture just begging to be taken" ... the good, the bad, the ugly ... people, architecture, history, arts.


I wish I had had more time to devote to taking pictures, but I was pleased with some of the shots I captured.


I hope you enjoy my journal of our trip as much as we enjoyed our stay in New Orleans.


Friday, June 27th ...


We left home around 11:00 a.m., and our first stop was Ponchatoula, Louisiana, which is about an hour North of New Orleans. Ponchatoula is known as "the Strawberry Capital of America," and also has several antique shops along its Main Street. I was disappointed in the shops. Everything was overpriced and I didn't see anything that caught my eye.


We didn't stay long and stopped for a late lunch about 12 miles down the road at Middendorf's in Manchac, which is 45 minutes north of New Orleans.
Middendorf's is a wonderful locally-owned seafood restaurant that has been there longer than most people can remember [since 1934]. For generations, Middendorf's has been a favorite stopping point for travelers from Mississippi and Louisiana, on their way to New Orleans. My husband had the shrimp po'boy and I had shrimp gumbo. We enjoyed it so much that we stopped again Sunday for lunch on our way home. If you're ever in the area, you should definitely add Middendorf's to your itinerary. You won't be disappointed.
As we approached New Orleans on I-10, the skyline was shrouded by low-lying clouds, with a circle of bright blue sky above it. I snapped this picture as we were driving down the interstate ...
We stayed at Windsor Court Hotel, which is downtown, close to the river. Here are some pictures of the courtyard entrance and the lobby (I wish I could say the red Ferrari is ours, but it's not)...
Our room was on the 20th floor and had a walk-out balcony which looked out over the Mississippi River. There was a thunderstorm our first night there and it was so beautiful -- like an early 4th of July fireworks show reflecting off the river.
Here are a few pictures I took from the balcony ...
Saturday, June 28th ...
Saturday morning we decided to explore the French Quarter, and were happy to see that it was relatively unchanged in comparison to the last time we were there. There were some buildings and shops with "For Sale" signs on them or boarded up, but for the most part, it was business as usual. Unfortunately, one of the shops that was vacant and for sale was a quaint little pastry shop called La Marquise, which was one of our favorite places to go for breakfast. It was just a little "hole in the wall," but had a beautiful garden courtyard in the back with tables and chairs where you could get away from the hustle and bustle of the Quarter and enjoy their scrumptious pastries. We were sad to see it was among the businesses that didn't survive Katrina's wrath.
On a side note: Tourism was, and is today, the number one industry of New Orleans, and although many businesses in the Quarter survived Katrina's physical impact, they couldn't survive the disaster's impact on the economy of New Orleans.
On a more cheerful note, here is a photo tour of our morning stroll through the French Quarter:
One of the first things we encountered was this little parade, complete with jazz musicians and people carrying fancy parasols, banners, and one lady was having a fine time just carrying a broom ...
You never know what you're going to see in the French Quarter, and these next pictures surely reinforce that concept.
The temperature was close to 90 degrees and this "Silver Statue Man," with his silver-painted face and hands and silver-painted layered clothing had to be sweltering in the heavy New Orleans humidity ...
An "Art Gallery" we passed ...
It was hard to resist making an appointment for an "angel reading" with Aimee, but I did ...
Only in New Orleans!
"It is better to go somewhere slow, than nowhere fast!"
Is that profound, or what? Gotta love it!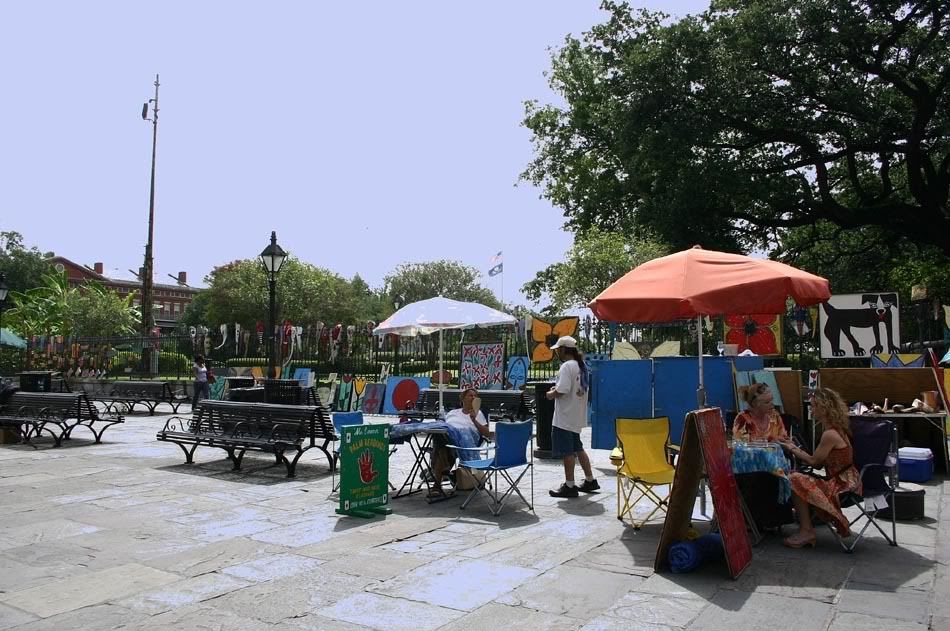 And you will meet a tall, dark, and handsome stranger ...?

I love this old building. It looks like it could be somewhere in France ...
After all that walking, we worked up an appetite and decided to go to Central Grocery on Decatur Street and get a muffuletta for lunch.
For those of you who have never experienced one, a muffuletta is an Italian sandwich on a circular loaf of soft Italian bread sliced horizontally and piled with salami, ham, and provolone, which are in turn topped with a wickedly spicy melange of chopped green and black olives fragrant with anchovies and garlic (just for the record, I pick out anything that remotely resembles an anchovy).
We sat on this shady bench in Jackson Square and "people-watched" while we ate our sandwiches and drank Barq's Root Beer.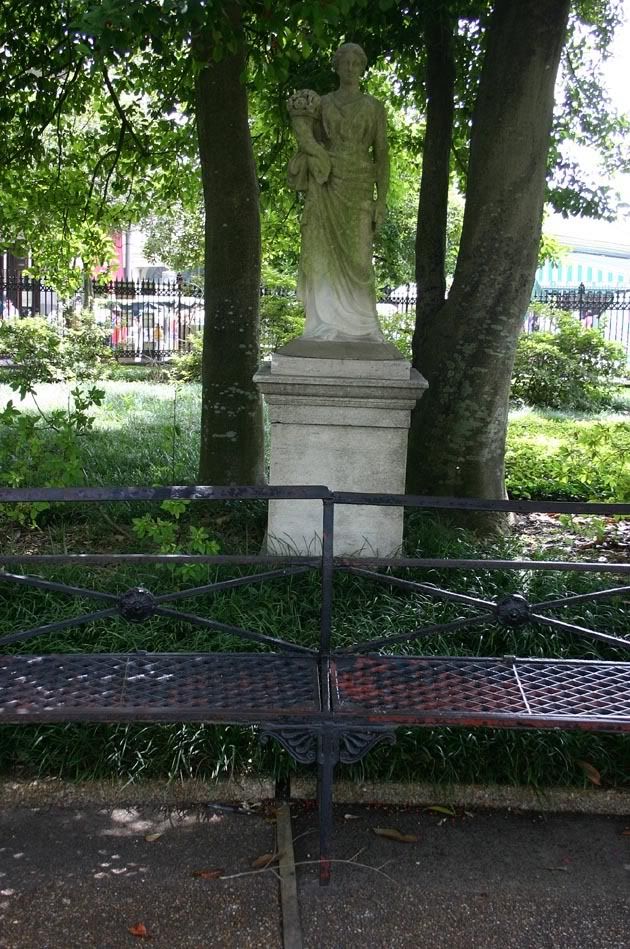 After we ate, all that walking caught up with us and we decided to go back to the hotel and rest for a while.
I hope you have enjoyed my story of our trip so far, and will come back again to see more pictures and hear "the rest of the story."
[I have added a slideshow below which features more pictures, if you'd like to see them.]
Sincerely,